I'm doing something I haven't done before, which is to collaborate on a painting with someone. In this case, I do this with my wife.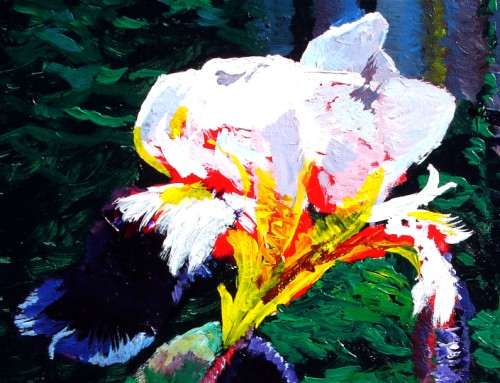 This is the largest painting I've ever done (11 x 14), and this is just a section of it. I love the early stages of a painting when it's rough and doesn't look like much. It hints at the direction it's going. The subject emerges with each stroke.
It's also interesting to collaborate. When I met Tamara, she swore that she had no artistic ability. I took the time to show her how to see the subject, how to mix paint. Later, she painted a series of rather large oak leaves for place settings at my birthday and she did a beautiful job. In fact, everyone at the table thought hers was better than the example I gave her.
And so we paint. It's not something we can do concurrently. I go, then she goes, then I go.
As for me, I've finally found a spot in the house in which I'm comfortable painting. I've had to change some of my methods to make it work. I've purchased some large canvases on which to paint. My next painting will be 24" x 48". That's quite a jump in size for me.
I'll post the final result of our teamwork in the next week.