Recently, Tamara bought herself a couple of orchids for her birthday. I've found my pen and ink stuff and so I thought I would sketch one of them.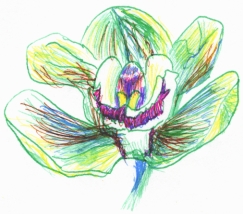 Been a while since I've done any art. This'll do for now. I'm anxious to get back to more of it. We'll see how time allows...
One thing I do know is that it felt good to just let go and scribble. Kindergarten is a good place to be sometimes. I had no expectations of myself here, and frankly I need more of this.