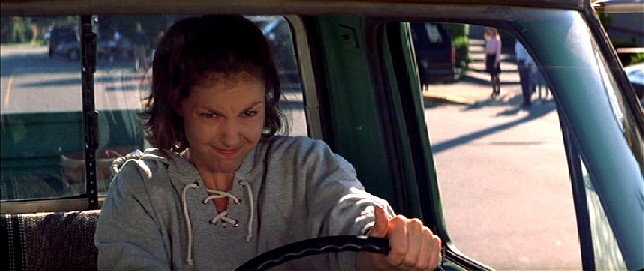 I watched Double Jeopardy with my son, Nick, tonight. It's a decent film. What struck me though was the sheer focus of Ashley Judd's character - her sense of self and purpose. There was no doubt in her. She asserted herself without a second thought. In the scene above, she knew that driving her truck into a car was exactly right. Think about that - what circumstances would it take for you to know that totalling another car was the right thing to do?
I was chatting with a friend earlier today and I mentioned that I admired her strength in dealing head on with people. Very factual, very much cards on the table. I think this is somewhat similar to being able to take criticism without being defensive. Both require a certain selflessness. In one, I can't worry about what others think of me. Call me an asshole, but truth is truth, and I just need to put it out there. In the other, I can't worry about what others think of me. Truth is truth, so if I screwed up, let's get it out into the open and I'll have to deal with it.
Another friend of mine calls this "just dealing in the irrefutable facts." Truth. If you deal in the irrefutable facts, and not personalities/politics, then the job is much easier. But it takes a certain moxie to disregard the feelings of others and just let them assimilate the facts as they are. Sure, there's a way to state these things that makes them more easily absorbed, but ultimately, you can't worry about it. Irrefutable facts are, well, irrefutable - without looking silly for trying to ignore them.
This is something on which I need to work, both in standing firm to assert myself in a tough situation and in knowing how to best communicate it. One key to communication in this area that I'm learning is the value of the one-on-one conversation. If I take the time to lay the facts out, most people will readily accept them for the truth that they are.
The facts are my friends.