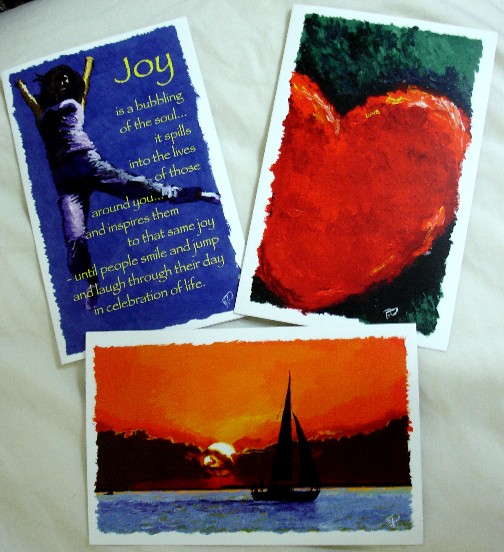 This is the third batch of cards that I've purchased. Every time that I go to the printers and pick them up, I fall in love with them all over again. I recall what it was to choose the image, measure out the rectangle with which I paint, select colors, paint brushstroke after brushstroke, and then scan in the finished work. Each card is a story. Each one is a gamble. It's a risk of my time and money. But to look at the finished product, it's all worth it. I'll allow myself that satisfaction.
Because this was a smaller batch, my cost per card was higher this time. Roughly $1.30 per card. Normally, it's only about 50¢. Lesson learned, and an expensive one at that. But it is a risk. What if I don't get my money back out of my investment? How do I sell them to insure that I do? Did I paint the right card? Is it the right message? The right look?
What's gratifying to me is that my more recent cards sell better than my earlier cards. I must be getting a clue, which makes my wallet happy.
So, that's it for my bit of respite this evening. Now off to my friendship painting.