Went bowling with all the kids and with Nick's girlfriend, Ali, yesterday. Here's Nick posing...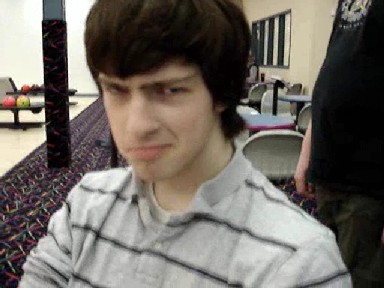 You can click on the picture to play a little video of the Cub and Austin bowling and goofing around with Nick.
After dropping the boys off at Jackie's, I went to a friend's family's house and played "SceneIt" for the first time. Coincidentally, that had nothing to do with the recent movie quizzes, but I do think it's kind of fun to do.
And then lots of coding into the wee hours and again this morning... I'm pretty much done with the order process and I'm now onto order management. I could be done by tomorrow. Then lots of testing and - (gasp!) - painting! Yayy! I couldn't be more excited.