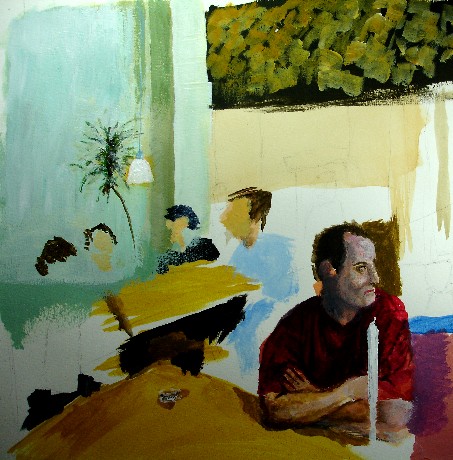 A little further. It's fun to explore the colors in acrylics, even though this is like painting with white out. It's harder to paint thin lines, I've discovered. It goes on thick. But I'll work on that.
You know, we're always amazed when someone writes a book. They conceived a story and characters and wrote it out. Is it good? That almost doesn't matter - we're still impressed.
It's kind of like that with painting too. Hundreds and thousands of brush strokes go into a painting, like hundreds and thousands of words go into a book. I'm not sure that the talent matters so much as the simple fact that it was begun and then finished. Cool if the talent is there, but wow - the commitment to finish the work.
I once worked in a company that coined the phrase "BIC Time." That's the time when money is made. It stands for "Butt In Chair." I think that might just be the only talent that any artist truly needs to impress others. Just getting the butt in the damn chair. If that happens, then art happens.
Today, I've spent my 14,973rd day on this planet writing a web site at work, managing a project, talking to friends and co-workers and my kids, attending meetings, eating, playing HALO, cleaning my apartment, installing new software on my home computer, and painting. Painting was maybe an hour of it. It's amazing how much time there is to do things in a day, and yet it seems short.
But this November 2nd was good.