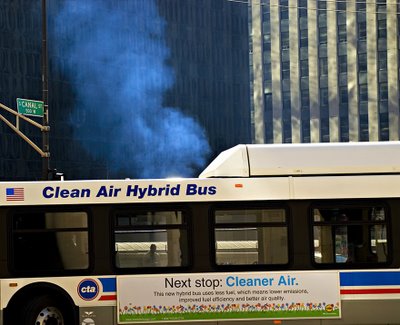 Chicago hybrid bus. Photo by Seth Anderson (CC)
I was in Chicago on St. Patrick's Day, and drove on Lakeshore right by the parade before it started. The traffic, therefore, was pretty much stop and go due to the great number of pedestrians - a ton of people coming to the parade. The driving was inconvenient and a bit annoying, to say the least.
As I drove further south past the museum, staccato-style, a city bus drove by on the opposite side of the street. "Clean Air Hybrid Bus" it declared. Other than the driver, there wasn't one person on that bus as it drove toward the parade.
People don't like mass transit, and all the effort in the world to invest in it and make people like it won't work. They like the independence and mobility of a car, even in crowded, annoying, impossible-to-park driving conditions like Chicago's St. Patrick's Day parade.