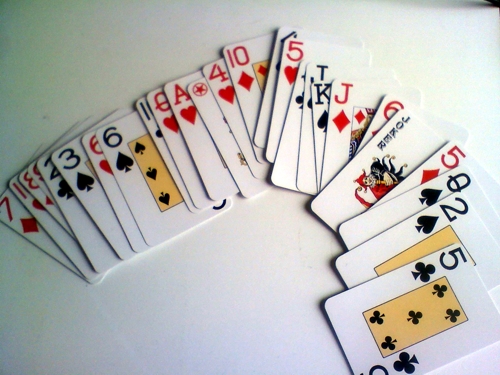 When I was in the Army, I was introduced to Card Deck PT by Sgt. Salinas. Basically, you shuffle the deck, flip the first card, and that's how many pushups you do. Flip the next card, that's the number of situps. Flip again, and that's how many deep lunges on each leg.
The system is that number cards are their value, face cards are 10, aces are 15 and jokers are 25.
I can't do the deep lunges so I substitute work on my stepper, and I've replaced situps with dumbbell crunches, but this has become my habit now. Just about daily, I go through half the deck. Today, my totals were:
| | |
| --- | --- |
| Pushups | 84 |
| Crunches | 74 |
| Stepper (4x) | 77 |
At first, it sucked. But I stuck with it, and now it's fairly easy.
Next week, I'll graduate to 36 cards instead of 27. And sometime in January, I'll go full deck.
My stepper, by the way, is this thing:
It's easily the best stepper I've ever found. Low impact and sturdy as hell, which is great for tubby me.