Gosh... how'd this happen?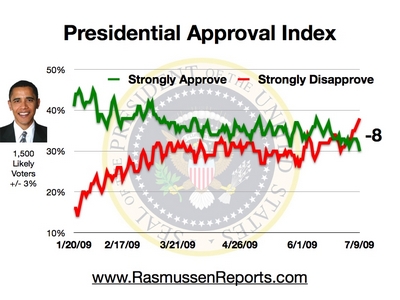 Could it be his abject trust of dictators?
Could it be his disrespect for our democracy-loving allies?
Could it be that he lied about pretty much every promise he made in the campaign?
Could it be that his economic policies are hurting the economy?
Could it be that his instinct for government control and not for the protection of our individual liberty is violating our basic sense of self?
Could it be that his wife was right - she's never been proud of her country and she married a man who despises America too?
Could it be that be that talk is cheap? That America hired a novice chump whose chief talent is talking out both sides of his mouth and both ends of his body at the same time? A guy whose ivory tower experiences led him to live in his grandiose theories but that in practice they fail every time they're tried?
Yep. That happened, in part, because the media slobbers all over the guy and didn't do its job vetting the guy and informing the voters of the facts of who he was and is.
Are you done trusting the media?