Tomorrow, I hold a 5th strategy session with a non-profit here in Des Moines. We're walking through the RAISED survey, and the executive director told me last week that these meetings are the ones he most looks forward to each week. We're rethinking their org, and we're coming to some sound conclusions about direction.
One aspect we're expanding for them is their volunteer base. Volunteers are a free resource to a non-profit in struggling economic times. The volunteers themselves might be looking for more meaning and purpose in how they spend their time. So how do we widen that channel of good energy?
A while back, I built the 247 technology, and in my discussions with them and also with my work on the successful Des Moines Tea Party, how to best engage a base of volunteers has been on my mind a lot. People want to give to those efforts they really believe in. How do you pull them in and keep them productive in ways that entice them to come back again and again because it feels so good to them?
I think I can repurpose the 247 technology for such a need. And so today, I'm working on a first draft for political volunteers.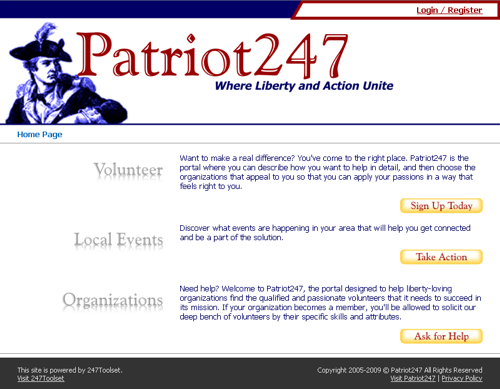 But whether it's political volunteers or engaging volunteers for anything, the needs are roughly the same. I've compiled a list of skills, categorized them, and now on my laptop's localhost, I'm retooling.
I'll take this into the strategy session tomorrow. The executive director told me that non-profits don't have anything like this to manage volunteers. So we'll see if my exploration here will prove worthwhile.