Here's the source for my next painting: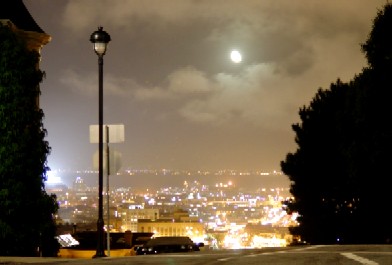 Love the colors. I love nighttime in the city. Such a gorgeous photo. I've been staring at it through the day, strategizing.
I've never used liquid frisket, but it's a rubber cement-like substance that you apply on the areas that you want to protect from a watercolor wash. You then lift it later.
And I've never tried bright lights, like those you see here, but with my new sense of Schmid's edges, I'm eager to see what I can do. So this painting will bring a few new challenges. I expect that I'll start it at my lunch break on Monday with a value sketch.