Just a thought for those who despise corporations...
There are four ways to make money:
Work for yourself.
Work for someone else.
Ask for voluntary donations.
Force someone else to give you the money involuntarily.
And here's an example of each:
Entrepreneurs
Just about every American worker
Non-profits
John Edwards
It seems to me that if anti-corporate types loathe the corporation so much, shouldn't they be strident entrepreneurs? That's the only true escape from "corporations," because if you work for yourself, you can choose to be a sole-proprietor. No corporation necessary.

On the other hand, workers work at corporations.

Non-profits rely on the money generated at corporations for donations by either business owners, businesses, or the employees of businesses.

And the blood sucker who parades around shouting down corporations, while trying to extract money from them? He relies supremely on confiscation from corporations in order to attain any wealth. How does the role of anti-corporate crusader deserve any dignity whatsoever? "Hypocrite" is a more likely and worthy title.

It all begins with the entrepreneur.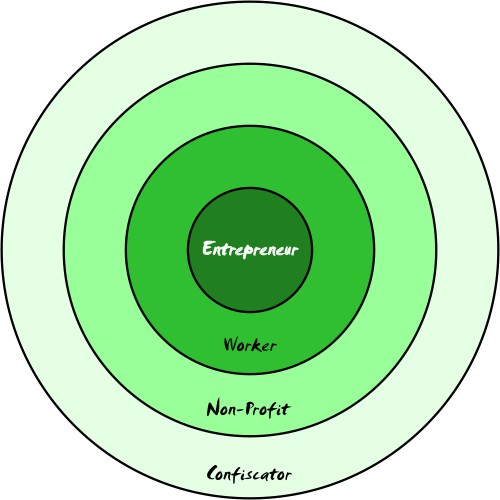 The confiscators - played by anti-corporate lawyers and the government, for example - don't do anything to create value in society. Why anyone champions confiscators is beyond my comprehension.