My kids want this, a new car made in India that sells for $2,500.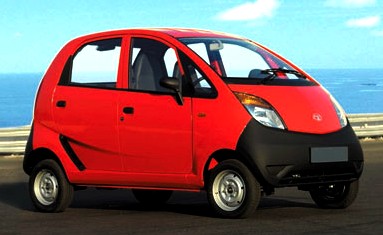 From the article:
This is the People's Car, the world's cheapest car at a starting price of $2,500, or the equivalent of a DVD player in a Lexus.
Why the hell isn't Detroit doing innovative stuff like this? This is the perfect student car, and with a 2-cylinder engine, it'll get great gas mileage.

ETC: Chris and PR make the great points that this Bella-christened Shrinermobile obviously lacks safety features that American laws require. Yep, I get that. But if the entire car is doable at $2,500, can't we throw, say, another grand or two of innovative safety features to bring it to American standards? I think we could...

Laptops for $100. Cars for $2,500. Now let's focus on livable homes that get below $50,000 and I think we're solving real problems.

I remember living in married student housing when I lived in Ames, Iowa, with my then-wife, who attended ISU. We lived in Pammel Court, a bunch of Quonset hut-style homes rented to us married folks for - get this - $85 per month. They looked something like this: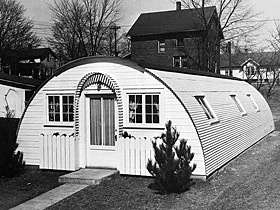 The school later raked them over and built shiny new housing that you can rent for about $500 per month.
Frankly, though they weren't pretty, they were quite functional and they helped a lot of starting families, particularly foreign exchange students. But there was big-time pressure to make ISU's northern entrance prettier, and so they were replaced.
Why do we allow communities and society to dictate to us what our risk tolerance should be? If we want to drive a Shrinermobile that would flatten us like a bug on a windshield, isn't that our choice? If we choose to live in lesser housing to help us stave cost, isn't that our choice?
If we're so concerned for the poor, why do we let our concerns for their well-being price everything out of their affordable range?
MORE ETC: Bella emails me with info about Katrina cottages.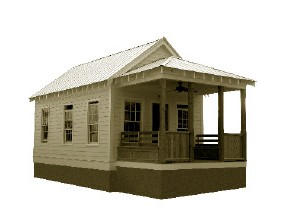 The cost to build and ship the houses is around $35,000 to $60,000, according to this guy. Read the link... it's a sad story of government "solutions" dictating "temporary" housing for the same cost that these permanent units would cost.
Mayor [Connie] Moran, who did the careful arithmetic with the architect, Marianne Cusato, learned that the cottages could be built for about $60,000, just about what the government pays to ship and set up a trailer. She asked FEMA to finance an 87-cottage pilot project on the east side of town.

FEMA said no. The law allows FEMA to provide housing only "on a temporary basis," and the Gulf Coast residents who qualify for one of the 10,000 trailers currently parked and going to rust and ruin on an abandoned muddy airstrip in Arkansas can have one for 18 months. So Ocean Springs will soon have a trailer park, with 600 trailers to replace the 700 houses destroyed by the storm. "FEMA," the mayor says, "is creating trailer trash."
Innovation stifled by the government. Of course.

Can we do more of this without being catalyzed by a national disaster? And I have a question - why does a 308 square-foot house cost $35,000 to $60,000 to manufacture? I might be naive, but that seems a bit high to me. By at least twice.

You know, if I ever make my wads of cash, I think I'd like to spend my time working on ways to make life more affordable for the poor. Non-government solutions, driven by innovative, cost-cutting, and functional measures. No hikes in minimum wage. Give me people who want to scramble upward in their life and I'd be glad to help where I can. I don't think life's necessities and access to credit have to be so hard to attain.