My attempt at painting Christmas cards for family turned out okay.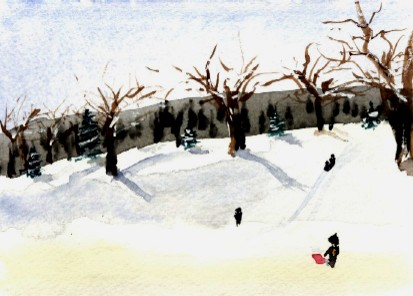 At least you can tell what it is supposed to be. I painted various renditions of the card for everyone, and with hands besmirched with shades of black and brown, I'm typing this during a break in painting the last six. I thought I was done, but I found more relatives.
I found a quote by Ann Lamott earlier today in trading email with a friend.
We write to expose the unexposed. If there is one door in the castle you have been told not to go through, you must. Otherwise, you're just be rearranging the furniture in rooms you've already been in. Most human beings are dedicated to keeping that one door shut. But the writer's job is to see what's behind it, too see the bleak unspeakable stuff, and to turn the unspeakable into words.

Risk being unliked. Tell the truth as you understand it. If you're a writer, you have a moral obligation to do this.
Life is too short to be afraid of mistakes.