I went to the Saturday Des Moines Farmer's Market this morning with my friend, Tamara. Saw a few people we know from work and ate some cool foreign dishes. I bought banana bread, pumpkin bread, flowers to paint, and strawberry jam. All good stuff.
Saw the cutest little girl there...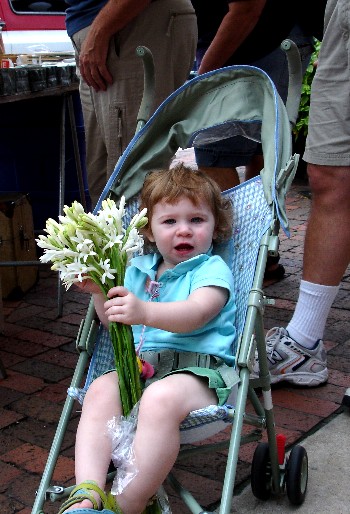 Ain't she a picture?
And some other nice flowers... I love the look of the guy on the right.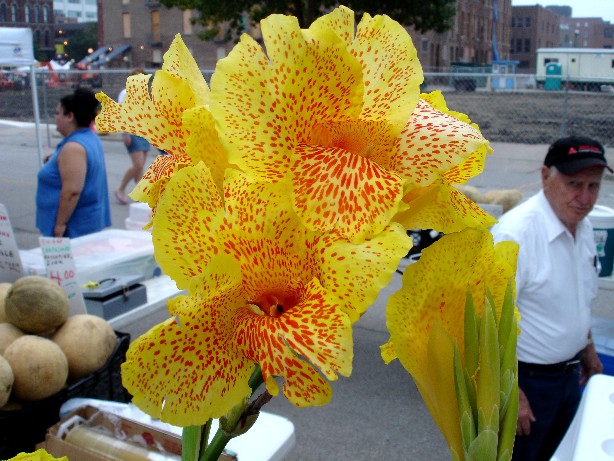 I spoke with with a woman named Courtney. She's one of the folks who run the Farmer's Market. I asked how to go about getting a seasonal slot in the market next year. If I can get in, every Saturday morning, that's where I'll be during summer 2007. It should be good exposure for getting my stuff out there.
Based on my trip driving across the US and the notion of showing up at the Farmer's Market, what if I traveled the country later in an RV and went from show to show, city to city, promoting my art and cards? Gee, I can think of worse ways to spend my time.
Later, I stopped at the Art Store and got some replacement brushes. I typically use three brushes with acrylics, and I felt as though mine were getting about to the place where I might consider new ones.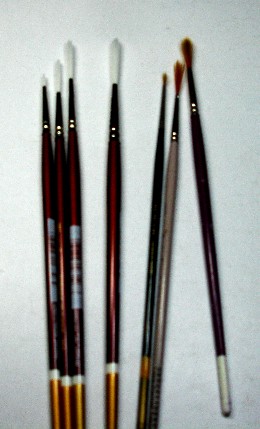 The ones on the right are the old ones, and the ones on the left are the new ones that I just purchased.
While at the Art Store, I also got a Golden color chart, which is actual swatches of their paints. I love Golden Heavy Body Acrylics. Best paint out there, by far. (I know this because I tested them.)
---
I've decided that once in a while I'll introduce something for which I'm excited and link it to Amazon. Today, it's Fabio Biondi's Vivaldi, and here's a clip to follow below. Great stuff, and it will be my painting music as I continue work on the sunflower.